Corporate Social Responsibilities
Corporate Social Responsibility (CSR) cuts quite naturally across all of Monofiber's activities. To Monofiber, CSR means taking responsibility and adding value, thus contributing, directly and indirectly, to the positive development in society. The company therefore endorses the principles of the UN Global Compact and pursues its corporate CSR and environmental policies with determination.
Monofiber is run as a responsible company and this method of operation is a permanent point on our strategic agenda. CSR is not a whim of fashion, but a strategic driver for all our activities, including product development and sales. Monofiber is exceptional in the responsibility it takes for how products are produced. As distributor, Monofiber chooses only producing partners with the highest standards. This has given Monofiber a leading position as supplier of environmentally friendly high-class composites materials.
CSR and environmental policies
Monofiber's services and products must accurately match the requirements and expectations of our customers. The company's distribution promotes regular reductions in resource consumption and environmentally harmful emissions.
Code of Conduct
At Monofiber we work based on a Code of Conduct, a set of rules, which serve to provide guidance with respect to business ethics and ethical behavior. All Monofiber's long-term partners have all the highest CRS standards and we are proud to follow.
In general, The Code of Conduct endorses the principles specified in the UN Global Compact and is in accordance with the recommendations of the industry organization CEFIC (The European Chemical Industry Council) and Responsible Care®.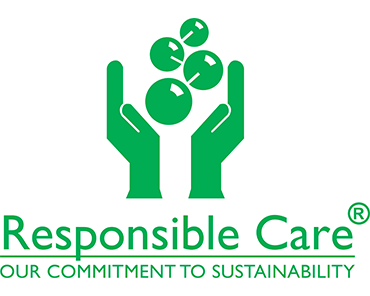 Responsible Care® is a voluntary commitment by the global chemical industry to drive continuous improvement and achieve excellence in environmental, health and safety and security performance.
Labelling and certifications
Monofiber works with strong focus on product labelling and certifications.
All our partners are certified under ISO 9001 (quality management) and ISO 14001 (environmental management). This ensures systematic control of all parameters in product development and production, as well as continuous performance improvements.

Product labels ensure user safety and health, as they e.g. guarantee that our products are registered and classified according to Regulation (EC) No. 1907/2006.
The five main areas
Monofiber's efforts are focused on five main areas which form the basis for our CSR and environmental objectives and policies:
Quality materials and optimized resources
Responsible production and supply chain management with best-in-class partners
Safety labelling and quality control
Industry development and innovation
Work ethics at Monofiber
Monofiber long-term partners Corporate Social Responsibility
Altana, BYK-Chemie
Understanding of Sustainability.
Sustainability as a triad of economy, ecology, and corporate social responsibility is reflected in ALTANA's mission. ALTANA consistently gears its activities to sustained profitable growth. But we can only achieve economic success in the long run if we also bear in mind ecological and social aspects and anchor them firmly in our company. See full report:
3A Composites
Worldwide Code of Conduct.
Application of the Code of Conduct applies to the directors, officers and employees of 3A Composites and its divisions, subsidiaries and related companies over which it has control. Any employee violating the law, this Code of Conduct or policies and standards of 3A Composites, may face disciplinary actions, up to and including dismissal. Those in managerial positions have a special responsibility to lead with integrity by example. They should seek to ensure that employees and contractors under their responsibility are aware of and comply with this Code of Conduct. See full report:
United Initiators
The United Initiator's Code of Conduct summarizes many of the ethical principles and standards of conduct of our company. We expect that all of us at United Initiators, all around the globe, are familiar with these principles and abide by them and any respective local laws and corporate guidelines.
Making the Right Way our Way!
Our Code of Conduct is a guide that defines basic, globally applicable standards of conduct that is expected of you as an employee of UI. You should turn to it whenever you face an uncertain ethical decision or witness behavior that might violate our standards or the law. This Code applies to all United Initiators employees at all levels, wherever in the world we work. This includes employees, contract employees, officers, and directors. UI also expects that our suppliers, agents, business partners, consultants, and licensees will follow similar principles. See full report:
AOC Aliancys
In November 2019, DSM (shareholder in AOC Aliancys) was again awarded a Gold CSR Rating by EcoVadis.
BÜFA Composites Resins

Chemicals are constantly subject to inspections and changes in laws, regulations and guidelines for handling and labeling. The entire industry is subject to these requirements, and BÜFA always strives to ensure that formulations meet the highest requirements and regulations.
BÜFA's goal is to offer a portfolio of over 50% cobalt-free products!
Only new products which do not contain cobalt or cobalt quantities below the relevant threshold will be part of BÜFA's product range going forward, and at the same time, products in the existing portfolio will gradually be converted.
Additionally, BÜFA works in various areas to design more sustainable products.
Since last year, BÜFA has used an eco-resin consisting of up to approx. 40% recyclable raw material, e.g. to produce flame-retardant components, and further work is being done to expand this to other productions.
The high quality of BÜFA's products, both in terms of optimized performance, and compliance with the highest environmental requirements, is extensive.
Bramming Plast Industri
Collaboration with our supply chain.
SAERTEX
VISION
SAERTEX - Innovation for a resource-saving future
MISSION STATEMENT
We make the continuous reduction of global resources consumption possible.
CORE PHILOSOPHY
We make a considerable contribution towards the minimization of global resources consumption, with our products. In doing so we are creating a world worth living for all of us and preserving it for following generations. We have a desire to perform, to develop continuously and to create visionary innovation (for the future). Living our core values together with the Global SAERTEX-family and its magic creates the fundament for this philosophy.